The final weeks of August are upon us, and it already feels like September. Damn you summer, you came for a month or so, and you went. And now we're here praying for a few more warm days before all the kids come back to the city for school.
If you want a few good options for how to spend those potential good days, here are the five events I'm most excited for this week:
FESTIVAL: Buskerfest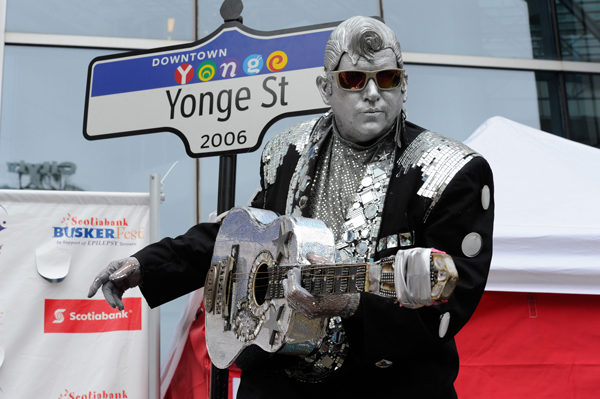 There's no better free way to spend some time outside this weekend than at the annual Buskerfest. Some of our most creative talents take to the streets, and the money earned goes to support epilepsy patients. Win win all around.
Where: Yonge & Dundas
When: August 21 - 24th
MUSIC: Julie Doiron


One of Canada's most underrated, incredibly talented singer songwriters take the stage at the Horseshoe on Thursday. You probably shouldn't miss it.

Where: Horseshoe Tavern
When: August 21, 8:30pm
EXHIBIT: The Science of Rock


If you've ever wanted to learn about the interesting science behind music, you need to check out the Science of Rock N Roll exhibit currently on at the Ontario Science Centre. Best of all, Thursday evening is an adults only party where The Rolling Stones are playing on the Imax, the drinks are being served, and the exhibit is open til midnight.
Where: Ontario Science Centre
When: August 21, 7pm
FUN: Paws In The Park


There's no better cause to support than puppies. Show your love for our furry friends by attending Paws in the Park this weekend with your pet - or without - take the opportunity to adopt a lovely creature that needs a home!
Where: Woodbine Park
When: August 24, 9am
FOOD: Coconut Festival


Hey health nuts, this one's for you! By now we've all heard about what a versatile and incredibly healthy food coconuts are for us. We should be consuming them more often. Take this chance to learn just how diverse and useful this food can be by checking out a festival dedicated to the one and only delicious coconut.
Where: Wychwood Barns
When: August 24, 10am